Website Design and Development for
The AssessHub Website Development project involved creating a dynamic and user-friendly website for AssessHub, a platform specializing in assessing customer-facing talent. The objective was to design and develop a visually appealing website that accurately represented AssessHub's capabilities and provided a seamless user experience. The website was built using WordPress, incorporating the client's design while focusing on search engine optimization (SEO) to increase website traffic and generate leads.
AssessHub is a dynamic and innovative platform known as the "superBrain" for talent assessment in customer-facing roles. Their cutting-edge solutions enable businesses to swiftly and accurately evaluate candidates for sales, customer service, and support positions, ensuring fast and effective hiring decisions.
The objective of this project was to develop a WordPress website for AssessHub that effectively showcased their talent assessment platform for sales, customer service, and support roles. The website aimed to provide an intuitive user interface, highlight AssessHub's features and benefits, and drive organic traffic through SEO techniques.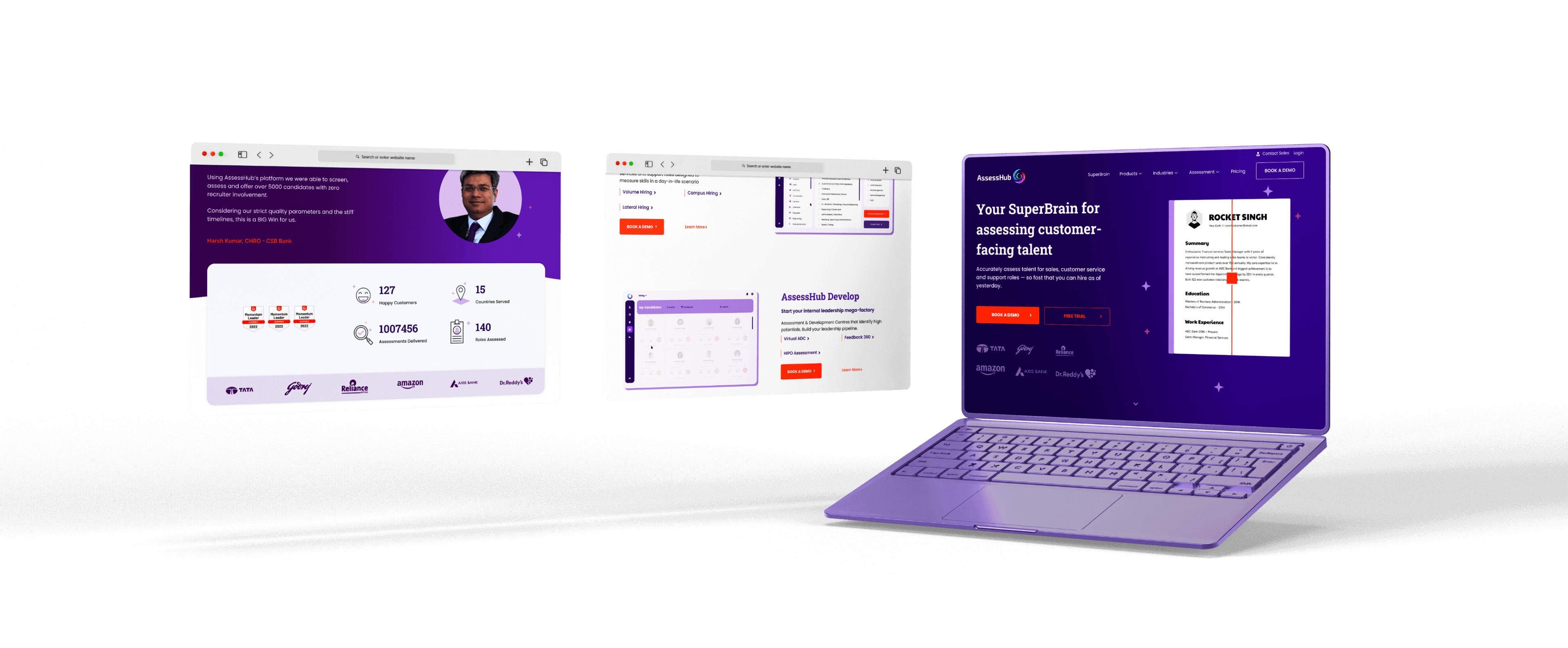 The project followed a structured approach, starting with in-depth requirement gathering sessions to understand the client's expectations and desired functionalities. The client's design was implemented, ensuring visual consistency and appealing aesthetics. Interactive elements such as Lottie SVG animations and scroll-based interactions were integrated to enhance user engagement and explain the client's product in detail. Live chat functionality was added to facilitate communication. To overcome potential performance challenges, optimization plugins were implemented, and a dedicated server was recommended. WordPress and the Elementor page builder were used to provide an easy-to-use CMS for seamless content management.
The AssessHub Website Development project resulted in a visually appealing, user-friendly website that effectively showcased AssessHub's talent assessment platform. The optimization efforts increased organic traffic, improved search engine visibility, and generated valuable leads. By implementing interactive features and providing a seamless user experience, the website played a vital role in establishing AssessHub's online presence, enhancing credibility, and driving business growth.